Our Clients
Some of Our Clients
daydreams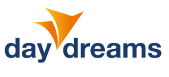 daydreams has been one of Europe's leading providers of short breaks for 20 years. The company has over 700,000 active members and websites in Belgium, France, Germany, Italy, the Netherlands. Poland, Spain and Switzerland.
Servieres Consulting has supported daydreams with the launch of www.daydreams.co.uk and www.daydreams.ie.in 2019.
Our remit and ongoing tasks include the recruitment of hotels and distribution partners across the UK and the Republic of Ireland.
Hotelopia

Hotelopia is a leading online hotel booking portal offering 75,000 worldwide establishments ranging from luxury to budget hotels in 2,800 destinations. The website is specifically designed as an employee/member incentive tool. Hotelopia is part of TUI Travel PLC group.
Hotelopia has commissioned Servieres Consulting to head up and expand a Team of Business Development Consultants across Europe, to develop the company affiliate and partnership strategy.
What they say about us
Hotelopia has been very satisfied with the way Servieres Consulting has developed the UK market for the past 2 years. A number of high profile partnerships with key organisations have generated annual revenues of 1.5 million Euros for our company, a number that keeps on growing. As a result, we asked Servieres Consulting to run and expand the European team of business development managers.

– Daniel Martyn, Online Marketing Director, Hotelopia
ETOA

Since 1989, ETOA (European Tour Operator Association) has established itself by representing its members in the European political arena, delivering specialist seminars and hosting major workshops, now ranked by leading European buyers and their suppliers as the most vital in the travel industry calendar.
ETOA is valued by its members for the strong support and commitment to key issues the travel industry faces. In 20 years ETOA has grown from 4 members in 1989 to over 500 Members worldwide and brings together the active involvement of industry leaders. With a stronger and wider membership than ever, there has never been a better time to maximise business opportunities by joining ETOA.
Tom Jenkins, ETOA's Executive Director, has commissioned Servieres Consulting to assist ETOA in recruiting new members and find new sponsors for its workshops and international events, including City Break and GEM.